Amical et chaleureux, délicieusement rétro, c'est le pied-à-terre idéal. Le dernier-né des Hoxton, la chaîne britannique néodandy, s'envisage comme une fenêtre sur la bouillonnante Amsterdam.
Il vous accueille à bras ouverts. Content de vous compter parmi les siens. L'Hoxton d'Amsterdam, premier hôtel de la petite enseigne britannique à franchir la Manche, est l'un de ces établissements qui ont mis toute solennité au tapis, élevant le mot « friendly » au rang de philosophie. On y entre comme chez soi, sans portier hautain ni lobby sévère. C'est alors une bouffée chaleureuse qui vous saisit, d'autant plus bienfaisante qu'en ce matin de fin d'hiver on y est bien entendu arrivé sous la pluie. Avant l'Hoxton, il y avait ici le Rembrandt Classic Hotel – par « classic », entendre « look années 80 de la pire espèce » – dont la géographie tenait du miracle : on est ici entre ­Singel et Herengracht, deux des canaux les plus prisés de la ville. Tout ce qui fait ­l'Amsterdam touristique et romantique est à deux stations de tram ou à trois coups de pédales. Même excellence en termes d'architecture : l'hôtel est la réunion d'une ancienne banque en brique et de cinq maisons du xviie siècle. Hoxton, en somme, ne pouvait rêver meilleur spot pour son nouvel emplacement. Depuis la rue, descendre trois marches, franchir deux portes et débarquer en semi-sous-sol, comme le veulent les constructions locales, dans le plus cool des salons. On a laissé là les murs bruts, jeté au sol quelques kilims, posé sur les fauteuils des coussins dépareillés.
C'est délicieusement nonchalant, plus bohème que bourgeois, et le public est à l'avenant : des barbus à bonnet discutent business et créa autour d'un MacBook, des couples en city break font une pause thé fumé en attendant que les trombes d'eau cessent, tandis que sur la grande table centrale, des filles et garçons éthérés, looks d'étudiants en lettres, fixent gravement leur écran de PC. Que font-ils là ? On nous apprend qu'ici le wi-fi est accessible à tous, sans code, et que « c'est super, comme ça n'importe qui peut venir bosser ou juste flâner ». Entre autres attentions sympathiques, vous, clients, disposez d'une heure de communication offerte pour appeler où vous voulez depuis le téléphone moutarde en bakélite qui trône dans votre chambre. Mais pour l'heure, ladite chambre n'est pas prête. Qu'à cela ne tienne, pour patienter plaisamment, on nous propose de nous joindre au cours de yoga qui va bientôt démarrer. Pas trop dans le mood « position du lotus », on partira plutôt courir les ruelles et les canaux. Le ­Rijksmuseum, la maison d'Anne Frank, la place du Dam ? Oui, bien sûr, tout cela est à deux pas. Mais l'établissement a beau plastronner en plein centre chic, The Hox Guide, petite bible de l'Amsterdam branchée, vous engage à prendre la tangente hors hyper­centre, là où il y a moins de canaux, certes, mais davantage de vie.
Un hôtel d'ouverture, décidément. Sur ses bons conseils, on a foncé plein sud, dans le quartier de De Pijp, pour fouler les parquets de Hutspot, un concept-store de pointe où on se fait tailler la barbe et où on s'approvisionne en créateurs danois. On en est parti avec un lot de minicactées plantées dans des coquilles d'oursin, parfaitement inutiles, mais merveilleusement arty. Puis on a trinqué, plein ouest, sous le Waterkant, un immeuble cylindrique transformé en bar à la mode en bord de quai. Chez Hoxton, on vous raconte une Amsterdam foisonnante, contemporaine, loin de la capitale baignée dans la naphtaline qu'on a visitée en voyage scolaire.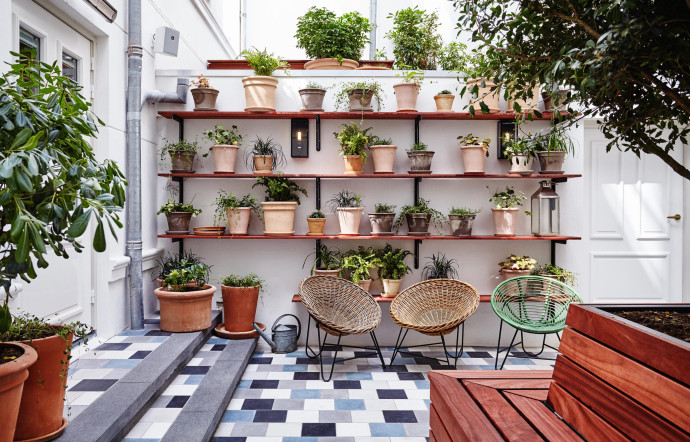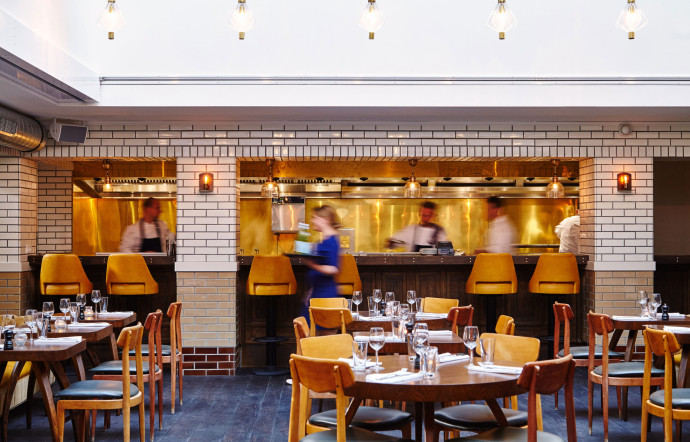 Un bar-salon chaleureux et recherché
C'est à la nuit tombée qu'il faut regagner sa base : le salon, désormais tamisé, bruissant de conversations, vous fait l'effet d'une soirée entre amis. Il faut se hisser sur la mezzanine, commander une bière locale ou un cocktail au genièvre, les déguster sur un canapé ­Chesterfield caramel ou un joli pouf en laine. S'il vous prend des envies de littérature, une intégrale de Goethe richement reliée vous tend les bras. Mais ici, on manie davantage les iPhone que les livres d'antiquaires et pour cause, l'endroit semble avoir été conçu pour Instagram. Quant à la bande-son, débitant à la chaîne des perles feutrées de pop underground, elle nous a fait « shazamer » à tout-va. En contrebas, dans cette patrie de « dîne-tôt », le restaurant Lotti's s'anime déjà – il est 18 heures. N'importe quel soir de la semaine, on y croise des tablées bondées de sobres modeuses et de dandys détendus. Une clientèle qui n'a rien de too much, de surjoué, de trop tatoué. On est ici entre trentenaires qui se fichent de se faire voir. Et le serveur qui nous amène à table est du même acabit : raie sur le côté, chemise rentrée, pantalon droit, le tout en dégradés de bleu. Impeccable, sans fioritures. On regrettera de ne pas retrouver dans l'assiette ce sentiment d'harmonie et de douce unité : la salade de quinoa – un plat resplendissant, oui, oui, s'il est entre de bonnes mains – était ici sèche comme du couscous nature, tandis que la morue au pesto se révélait bien quelconque. Etrange, pour une table gérée par le groupe Soho House, qui excelle pourtant en savoir-vivre – et qui, ceci n'ayant rien à voir avec cela, devrait ouvrir un hôtel à quelques canaux de là d'ici à 2017.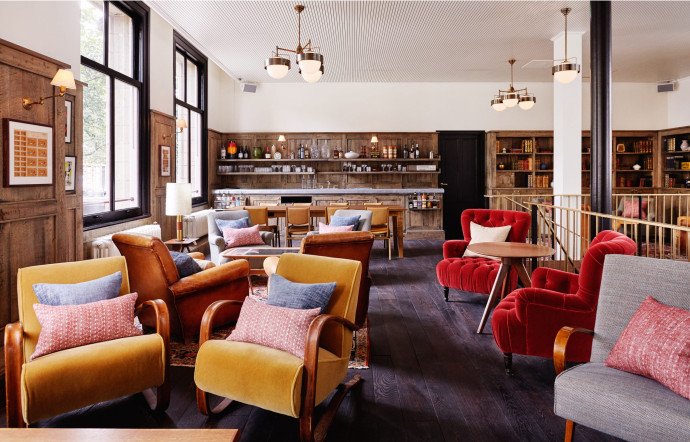 Une déco rétro-moderne
Il y a d'ailleurs un ADN commun à ces enseignes en vogue – les britanniques Hoxton et Soho House, les américaines Ace ou ­Paligroup – dans la façon dont elles mixent les styles, empilant fifties, sixties et seventies sans complexe, osant le kitsch, voire le folklo, slalomant sans fautes entre les registres décoratifs. Ici, c'est à Nicemakers, jeune et joli couple amstellodamois (Joyce Urbanus et Dax Roll), qu'on doit les beaux effets rétro qui patinent l'établissement. Dans l'ascenseur, ils ont accroché en rangs serrés des portraits de paysannes de la Frise – cette région du nord des Pays-Bas, où l'on produit des fromages de brebis à tomber. Ça continue dans la chambre avec d'adorables boîtes en métal – à bonbons, à cigares ou à sucre – qu'ils ont disséminées çà et là. Les plus fouineurs d'entre vous tomberont sur des cartes postales d'antan, comme cette émouvante vue de Beetsterzwaag, ville thermale, au dos de laquelle une certaine Kaatje, qui prend là-bas les eaux, adresse des baisers à sa nièce.
Un précis de nostalgie batave ? Ce serait oublier cette tête de lit en cuir, ce miroir hexagonal un peu psyché, ce lustre aux lignes RDA, ces murs bleu canard, toutes ces fantaisies pleines d'esprit, indatables, inlocalisables, qui font de notre chambre un petit chef-d'œuvre hôtelier. Il y a encore ces immenses fenêtres, comme le veulent les us locaux, par lesquelles vous embrassez la ville et vice versa : bateliers et passants, en levant le nez, vous adresseront parfois leurs saluts. Un hôtel d'ouverture, vous dit-on, qui vous incorpore à la cité. On dit d'ailleurs de ces intérieurs néerlandais ouverts à tous les regards qu'ils sont un héritage calviniste : c'est le dogme du « rien à cacher » qui s'exprimerait là. Mais ­qu'Amsterdam nous pardonne nos pudeurs : on a quand même tiré le rideau.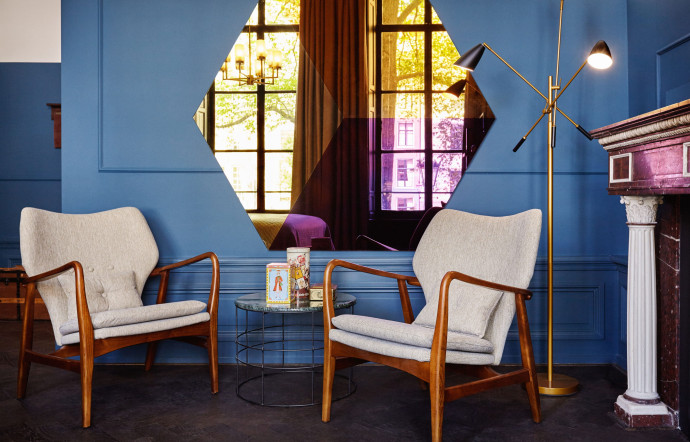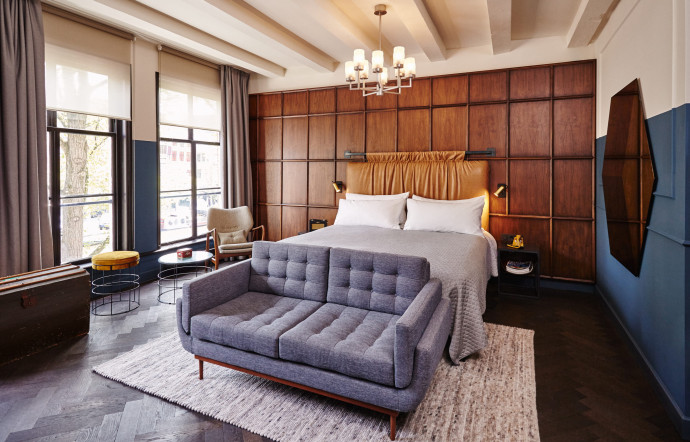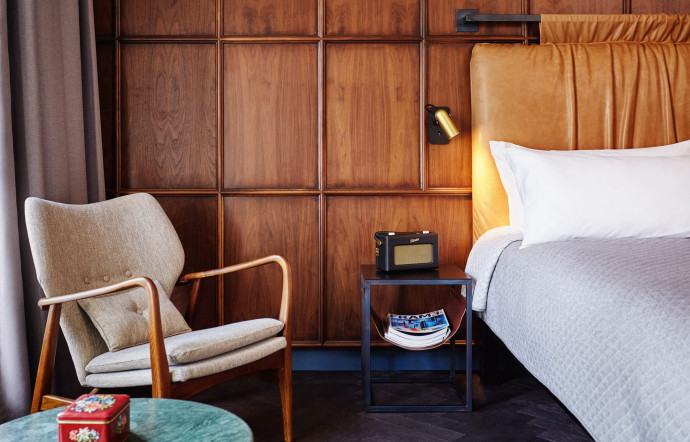 Pratique
The Hoxton Amsterdam : Herengracht 255. Tél. +31 20 888 5555.
thehoxton.com/holland/amsterdam
Y aller : Thalys dessert Amsterdam depuis Paris jusqu'à 11 fois par jour. Durée du voyage : 3 h 16. A partir de 35 € en Comfort 2 et 79 € en Comfort 1. Informations et réservations sur Thalys.com, sur l'appli Thalys, ainsi que par téléphone au 3635.
Les hôtels Hoxton
A l'origine du premier Hoxton, il y avait Sinclair Beecham, patron de l'enseigne anglaise Prêt-à-manger : en 2006, il investit 17 M £ de livres dans un immeuble du trendy Shoreditch, à Londres, pour en faire un « no bullshit hotel » – comprendre : un établissement stylé qui ne vous arnaquera pas. Le 81 Great Eastern Street devient vite le repaire des touristes à la page et des modeux locaux qui plébiscitent son bar pour une bière d'après-bureau. Belle plus-value à la clé, Beecham revend l'affaire en 2013 à Ennismore, une compagnie dans le vent fondée par le trentenaire indo‑britannique Sharan Pasricha – à son actif, un joli portefeuille de restaurants et d'hôtels à l'image du mythique Gleneagles, palace perdu en pleine campagne écossaise. Lequel Pasricha va transformer le concept Hoxton – un hôtel de quartier, plutôt abordable, au look enlevé – en marque exportable hors Shoreditch : un deuxième Hoxton ouvre ses portes en 2014 à Holborn, coin central de Londres, puis un troisième à Amsterdam, en juillet 2015. Ennismore ne compte pas s'arrêter en si bon chemin, avec, pour le printemps 2017, un Hoxton annoncé à Paris et un autre à Brooklyn, à deux blocs du Wythe (le seul hôtel haut de gamme, jusqu'ici, du quartier). Une belle enseigne internationale est née, apte à concurrencer les plus in.