Hendrix est mort, vive Chance The Rapper ! Si la première édition de Woodstock, en 1969, était une grand-messe rock, hippie et psychédélique, celle des 50 ans accueillera en plus des rappeurs (Jay-Z, Leven Kali, Akon) et des stars de la pop (Miley Cyrus, Imagine Dragons, Portugal. The Man). Comme l'originale, elle se déroulera dans l'Etat de New York du 16 au 18 août prochain.
Des légendes du rock, comme Santana et Robert Plant seront aussi du déplacement. De cette line-up prestigieuse, The Good Life a retenu 13 artistes. On est impatients de les voir performer à Watkins Glen, tout près de Bethel, où la boue et les acides ont laissé une trace impérissable dans l'histoire comme dans le voisinage, il y a 50 ans.
Si, justement, le manque de préparation et le chaos qui ont marqué le premier Woodstock, ne devraient pas repointer le bout de leurs nez, l'esprit « peace and love » sera lui au rendez-vous, comme thème central du festival. Les prix des places n'ont pas encore été dévoilés, mais ils pourraient sans surprise se rapprocher de ceux pratiqués à Coachella. Aseptisé ? Peut-être. Mythique ? Toujours.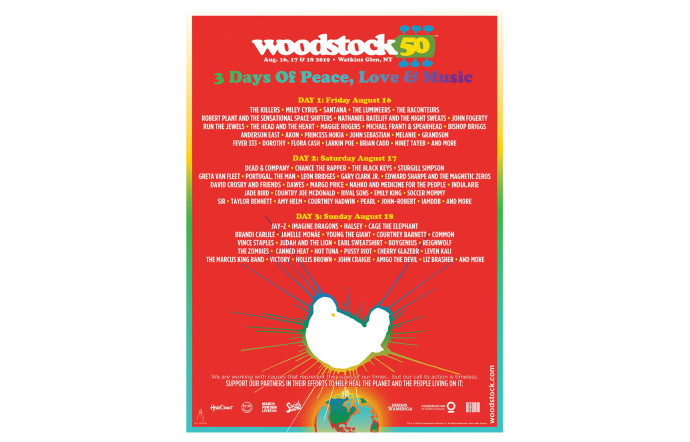 La playlist de The Good Life pour le festival Woodstock 50 :
---
Suivez The Good Life sur Spotify pour retrouver toutes nos playlists : @thegoodlifemagazine
---