Entre brouille familiale supposée, envies de réussites solo et modes de vie radicalement différents, les frère et sœur Angus et Julia Stone auront mis trois ans avant de revenir aux affaires. Leur quatrième album, Snow, sorti le 15 septembre dernier s'est tout de suite glissé en tête des top, malgré la concurrence féroce d'Indochine et du rappeur Sadek. Premier opus de la fratrie écrit et composé par le duo à 100 %, c'est une tuerie ! Toute la rédaction est sous le charme.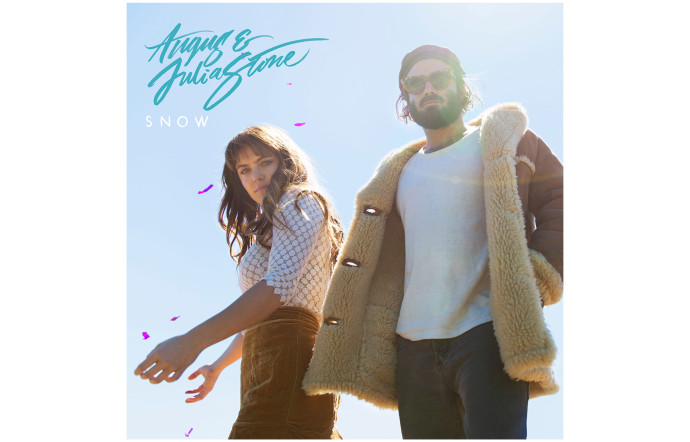 Le groupe a donné le ton dès le mois de juin avec le premier clip, Snow, où l'on retrouve l'atmosphère minimaliste et réconfortante qui a fait leur succès, notamment dans le carton planétaire Big Jet Plane. L'album est tout aussi réussi, on sent la fratrie apaisée, après plusieurs années de furie et de tournées harassantes. Comme réconciliés, Angus et Julia Stone livrent une mise à nue d'une simplicité déconcertante. Efficace. Une nouveauté tout de même, un vieil orgue chiné par Angus qui vient donner à l'album des sonorités délicieusement surannées. Un fil rouge qui finit de coudre le caractère tout particulier de Snow.
Parmi nos morceaux préférés (un choix cornélien), Chateau, Cellar Door et le planant Baudelaire, hommage à l'Enivrez-vous du poète français. On aime aussi Oakwood, plus rock, et l'épique Sylvester Stallone, qui termine l'album à la perfection. Des titres que le duo va défendre sur scène, d'abord en Europe jusqu'au 8 novembre, puis en Amérique du Nord. L'occasion pour eux de se retrouver, puisque Julia, la citadine de Melbourne, et Angus, qui préfère la vie dans la campagne australienne, n'ont que les concerts et le studio pour se voir. Ils seront au Zénith de Paris le 1er novembre, et on y sera !
4 Questions à Julia Stone :
The Good Life : Pourquoi est-ce qu'il a fallu attendre aussi longtemps votre quatrième album ?
Julia Stone : Tout d'abord, nous aimons prendre notre temps entre chacun de nos projets. Ensuite, c'est important de travailler chacun de notre côté, sur autre chose, cela nous permet de nous rendre compte de la valeur de ce que l'on crée ensemble.
The Good Life : Quelle est la principale différence entre Snow et vos précédents albums ?
Julia Stone : Nous l'avons écrit ensemble, dans son intégralité ! Dans le passé, nous avons toujours composé indépendamment l'un de l'autre. Pour Snow, nous sommes arrivés en studio et nous l'avons créé tous les deux, dès le début. Aussi, nous avons pour la première fois enregistré l'intégralité de l'album dans la ferme d'Angus. En vase clos.
TGL : Snow, Chateau, Baudelaire… La plupart des morceaux de l'album semblent plus personnels, plus centrés sur la famille que sur Angus & Julia Stone, l'opus précédent. Comment l'expliquez-vous ?
J.S. : Après 11 ans à jouer de la musique ensemble, on est certainement de plus en plus proches… Nos liens se sont renforcés, ce qui nous a permis d'écrire tout un album à quatre mains. Cela doit certainement jouer sur la façon dont il sonne…
TGL : Vous allez jouer au Zenith de Paris le 1er novembre, quelles surprises réservez-vous au public parisien ? 
J.S. : Et bien, vous allez devoir venir pour le découvrir ! (rires) Je peux juste dire que ce sera un show très amusant, avec beaucoup d'éléments visuels. Angus et moi parlions récemment de la façon dont les morceaux ne naissent vraiment qu'une fois qu'ils sont joués en public. Il y aura donc beaucoup de vie dans nos chansons, comme sur scène et dans le public !
La Playlist de Julia Stone :
Titres et artistes :
Lost In The Light, Bahamas
Spooky, Dusty Springfield
Heart Of The Country, Paul McCartney & Linda McCartney
Running Home to You, Bee Caves
Hold On, SBTRKT & Sampha
Coffee, Sylvan Esso
Cherry, J.J. Cale
Lost, Frank Ocean
Heart of Gold, Charles Bradley & Menahan Street Band
Dust Bunnies, Kurt Vile
This Place, Retiree
I Heard, Young Fathers
Rainy Streets, Blue In Green
Chet Baker,  Vanessa Paradis
Earthquake, This Is The Kit
---
Angus & Julia Stone
Zénith de Paris le 1er novembre.
Halle Tony Garnier (Lyon) le 2 novembre.
Zenith The Cultural Hall (Munich) le 3 novembre.
www.angusandjuliastone.com
---