C'est un artiste pas comme les autres. De la programmation à la vidéo art, du DJ au design interactif en passant par la danse et la recherche, Daito Manabe arrive à donner forme à ses idées disruptives en réalisant de nombreux projets hybrides. Avec un diplôme de mathématiques de la Tokyo University of Science dans une poche et un en programmation sensorielle dynamique de l'International Academy of Media Arts and Sciences dans l'autre, il fonde en 2006 Rhizomatiks Research, rejoint à partir de 2015 par Motoi Ishibashi. Infatigable, ce gourou de l'art numérique collabore avec les grandes marques, les artistes confirmés ou émergents. 
The Good Life l'a rencontré en juillet au festival Sonar 2019. Ici, il montrait pour la première fois au public Dissonant imaginary, un projet qui permet de visualiser ses pensées lorsqu'on écoute de la musique. C'était aussi l'occasion pour cet artiste à l'œuvre protéiforme de concevoir une playlist exclusive pour nous. 
5 questions à Daito Manabe
The Good Life : Artiste, DJ, programmeur, designer interactif, compositeur, performer… Comment résumer votre activité prolifique ? 
Daito Manabe : A l'université j'ai étudié les mathématiques, c'était un parcours qui me correspondait, toutes mes œuvres sont connectées à cette science. Ma famille, elle, m'a influencé en ce qui concerne la musique ; mes parents étaient musiciens et mon grand-père fut un grand collectionneur de vinyles. Aujourd'hui je me considère comme un concepteur. Je soulève des problèmes par des projets aux croisement entre l'art, la musique et l'ingénierie. 
TGL : Quel était votre objectif quand vous avez fondé Rhizomatiks Research en 2006 ? 
D.M. : Rhizomatiks Research est une entreprise de design et ingénierie qui supporte de nombreux clients artistes. Notre objectif est de résoudre leurs problèmes à l'aide de la technologie. J'aurais pu continuer à poursuivre mon activité artistique indépendamment mais pour moi la recherche a toujours été importante. Depuis 2015 on s'appuie aussi sur l'aide de Motoi Ishibashi, actuel co-directeur de Rhizomatiks. Ensemble nous souhaitons développer des nouvelles technologies que je vais pouvoir appliquer dans mes œuvres futueres. Je n'aurais jamais pu mettre en place cela tout seul !
TGL : Est-ce que votre routine créative change quand vous travaillez sur un projet commercial ou sur un projet personnel ? 
D.M. : Il y a une grande différence entre le développement d'un projet commercial et celui d'un projet individuel. Dans le cas d'un projet commercial, il faut respecter une deadline, un budget et plusieurs restrictions qui limitent souvent ma créativité. Dans le cas d'un projet artistique, je peux travailler à mon gré, sans préoccupations. Je pense par exemple à Dissonant imaginary, un projet conçu avec Dr. Kamitani en 2014 et présenté au Sonar en 2019.
TGL : Justement, pouvez-vous nous en dire plus de votre participation au Sonar 2019 ?
D.M. : Qu'il s'agisse d'une performance live ou sur Youtube, aujourd'hui il est rare d'assister à un concert qui ne soit pas accompagné d'images diffusées par des projecteurs ou des écrans led. Pour Dissonant imaginary nous sommes partis de ce constat. Les vidéo DJs utilisent un software qui converti le son en images, c'est un processus qui se fait artificiellement. Le cerveau humain peut aussi le faire par lui-même. Il suffit de penser que quand on entend le chant d'un oiseau on peut très bien s'imaginer cet oiseau. Mon travail et la recherche du Dr. Kamitani ont permis de rendre visible cette activité d'imagination cérébrale grâce à la neuroscience et au machine learning.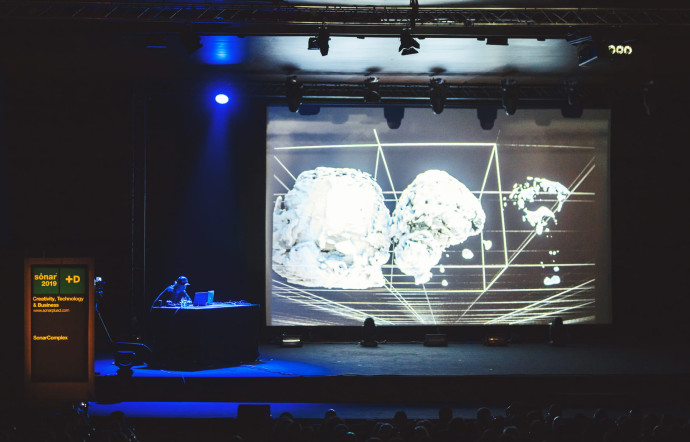 Avec ses études, Dr. Kamitani arrive à décrypter ce qu'un individu imagine lors qu'il entend un son. A travers d'un champ visuel nous pouvons déduire l'image à laquelle on est en train de penser à un instant précis. Quel est mon apport ? J'ai créé la musique qu'on écoute dans un appareil de résonance magnétique fonctionnelle pour retranscrire les images qui se génèrent dans le cerveau suite à l'écoute de cette mélodie. Jusqu'à présent je convertissais le son en images avec un software, aujourd'hui nous pouvons le faire en direct. J'y ai pensé il y a 5 ans et c'est la première fois que nous présentons ce projet au grand public.
TGL : Qu'est-ce que vous avez appris des collaborations avec artistes tels que Björk ou des marques comme Nike ou Gucci ? 
D.M. : Le travail avec les marques se passe toujours par commande, dans ce cas je personnalise tout ce que j'ai déjà appris pour la marque en question. La collaboration avec les artistes peut être plus compliquée. Travailler en direct avec des créatifs implique une connaissance profonde de l'autre personne et le partage de son temps. J'ai beaucoup apprécié les collaborations réalisées dans le passé avec les artistes Eleven play ou Perfume.
---
La playlist de Daito Manabe pour The Good Life