Humilité. Un disque qui s'ouvre avec une valse de Cécile Chaminade – compositrice et pianiste qui a joui d'une grande popularité au tournant du XIXe et du XXe siècle – et se termine avec l'un des grands chefs-d'œuvre de la littérature pour deux pianos, En blanc et noir, de Claude Debussy. Entre ces deux œuvres de la musique classique en France, le voyage qu'offre ce duo de pianistes passe par le trop rare et pourtant splendide Ruban dénoué, de Reynaldo Hahn, lequel ne fut pas seulement l'auteur de Ciboulette et l'ami de Marcel Proust, mais fut aussi un fin compositeur. « La musique doit humblement chercher à faire plaisir, l'extrême complication est le contraire de l'art. » Ce propos de Debussy s'applique parfaitement à cet album qui nous plonge dans un univers nostalgique et profond. Loin des clichés surannés qu'on prête à tort à cette musique, Berlinskaïa et Ancelle nous enchantent. Belle époque. Musique pour deux pianos, Ludmila Berlinskaïa et Arthur Ancelle (Melodiya).
Hommage. Lili Boulanger, géniale compositrice morte à 24 ans, et sa sœur Nadia, qui lui fut si proche, ont laissé un legs musical inimitable. C'est à cette dernière, qu'on appelait Mademoiselle, que la violoncelliste Astrig Siranossian rend hommage. À ses qualités de pédagogue – elle eut pour élèves Aaron Copland, Leonard Bernstein, Michel Legrand ou Quincy Jones – et à ses talents de compositrice – dans le sillage de l'un de ses maîtres, Gabriel Fauré. Au piano, Nathanaël Gouin, ainsi que Daniel Barenboim, qui fut aussi l'élève de Nadia Boulanger. La boucle est bouclée. « Dear Mademoiselle ». A Tribute to Nadia Boulanger, Astrig Siranossian, Nathanaël Gouin et Daniel Barenboim (Alpha Classics).
Perle. Le Palazzetto Bru Zane, fidèle à sa mission de découvreur du patrimoine de la musique classique en France du XIXe siècle, nous révèle cette perle de Camille Saint-Saëns. Elle est interprétée par un magnifique plateau et parfaitement dirigée par François-Xavier Roth à la tête de son orchestre, Les Siècles. Un opéra captivant, à la musique constamment prenante, dont on se demande pourquoi il était tombé dans l'oubli. Camille Saint-Saëns. Le Timbre d'argent, Les Siècles (Palazzetto Bru Zane).
Nathanaël Gouin
Le pianiste Nathanaël Gouin vient de faire paraître un précieux florilège de la trop rare musique pour piano de Georges Bizet. De l'intimité des Chants du Rhin à la transcription virtuosissime du Concerto pour piano et orchestre no 2 de Saint-Saëns, il nous propose un voyage raffiné et souvent touchant.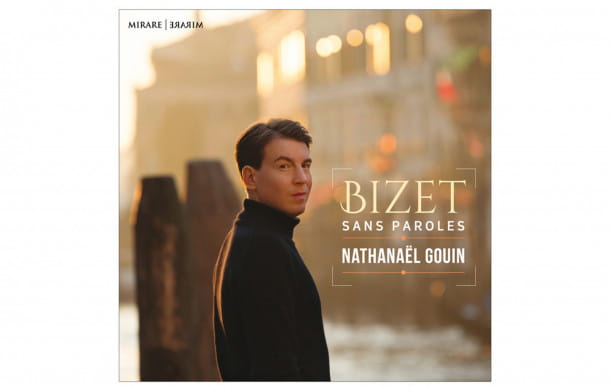 The Good Life : Avec ce disque, vous attirez notre attention sur un pan bien méconnu de la musique de l'auteur de Carmen…
Nathanaël Gouin : Bizet était un grand pianiste. Il avait des capacités phénoménales, qu'avait repérées un interprète de l'envergure de Franz Liszt. Quand ce dernier a écouté Bizet, il a dit que seuls trois pianistes au monde jouaient à un tel niveau. Mais Bizet n'a pas voulu mener une carrière de virtuose, devenir, selon ses propres termes « un singe de foire ». Il voulait s'enfermer pour composer pour la voix, l'opéra. C'était en quelque sorte le choix de l'antifacilité. Bizet avait une parfaite conscience de ce qu'il devait faire.
TGL : Votre panorama de l'œuvre pianistique de Bizet tend plus à une vision éclectique qu'à une intégrale conventionnelle…
N. G. : Oui. J'ai notamment choisi sa transcription du Concerto pour piano et orchestre no 2 de son grand ami Camille Saint-Saëns. Il y a dans cette transcription un grand respect du verbe du compositeur de l'œuvre originale, une vision très lyrique, très poignante. On sent à quel point Bizet aimait cette musique. Les Chants du Rhin, que je joue également, sont une musique tournée vers l'est, vers Schumann, Mendelssohn. C'est une musique très poétique qui dit des choses graves sans avoir l'air d'y toucher. On y trouve aussi cette bohémienne, qui évoque Carmen. Et puis j'ai aussi voulu interpréter la chanson de Venise, transcrite de la Romance de Nadir, extraite des Pêcheurs de perles, un autre opéra de Bizet. Et cette fois, notre regard se tourne vers l'Orient. Je voulais absolument enregistrer ce chef-d'œuvre de la mélodie. Bizet l'avait déjà transcrite pour le piano, mais j'ai voulu jouer ma propre transcription, comme un hommage à la voix, dans un esprit XIXe siècle. Je ne voulais pas ajouter des moustaches à la Joconde. Ce qu'il y a d'étonnant avec Bizet, c'est qu'il incarne à la fois la France, avec Carmen, l'opéra français le plus joué au monde, mais puise son inspiration en Allemagne, en Espagne, en Italie, pays où il aimait beaucoup se rendre. Un grand Européen, à l'instar de… Franz Liszt.
TGL : Une large part de ce répertoire est très intime, poétique. Mais on sent aussi chez vous, parfois, une fascination pour une certaine virtuosité…
N. G. : C'est peut-être mon côté un peu insolent ! À condition que cette virtuosité ne soit pas gratuite, qu'elle ait du sens. Mais il y a surtout chez moi une envie de faire découvrir des partitions méconnues. J'aime les chemins de traverse, quand le piano se fait orchestre ou voix. La technique n'est pas une fin en soi.
Bizet sans paroles, Nathanaël Gouin (Mirare).
Les trésors de la musique classique en France aux XIXe et XXe siècles revisités :
---
Suivez The Good Life sur Spotify pour retrouver toutes nos playlists : @thegoodlifemagazine
---