Irremplaçable. De Mendelssohn à Prokofiev, en passant par Brahms, Pergolèse, ou Ravel… voici un panorama très riche des enregistrements de Claudio Abbado, à la tête du flamboyant London Symphony Orchestra. On trouvera également dans ce coffret qui rend un hommage au grand chef milanais disparu en 2014 des disques légendaires, tels Carmen, de Bizet, incarnée par Teresa Berganza, ou encore « son » Barbier de Séville et « sa » Cenerentola, de Rossini. Claudio Abbado & London Symphony Orchestra (DGG).
Ingénieux. C'est avec une grande intelligence que le baryton Ludovic Tézier a conçu ce programme qui propose un panorama d'un demi-siècle d'opéra verdien. Du rare Ernani à la trilogie glorieuse constituée par Rigoletto, Le Trouvère et La Traviata, et les versions française et italienne de Don Carlos / Don Carlo, ce disque nous mène aux rives de Falstaff, dernier opéra du compositeur. Un plaisir sans mélange. Airs de Verdi, Ludovic Tézier, Orchestra del teatro comunale di Bologna, Frédéric Chaslin (Sony classical).
Cinématographique. L'orchestre de la Scala dirigé par l'un des grands chefs milanais actuels… Que rêver de mieux pour rendre hommage à Nino Rota, né à Milan en 1911, qui ne fut pas « que » le musicien de Fellini, mais un compositeur majeur ? Lequel a contribué à rendre inoubliables les films d'autres réalisateurs : Rocco et ses frères, Le Guépard, Plein soleil ou Le Parrain… À l'écoute de ce disque, les images d'Amarcord, de La Dolce Vita, de Casanova ressurgissent dans une interprétation magnifique. The Fellini Ablum. Musiques de Nino Rota, Filarmonica della Scala, Riccardo Chailly (Decca).
Prodigieux. Le dernier opéra de Monteverdi, à la musique sublime, trouve ici une interprétation à sa mesure. Difficile de savoir qui saluer en premier, du plateau impérial, de l'orchestre ou de la direction. Ce chef-d'œuvre composé par un Monteverdi de 75 ans (!) est un jalon essentiel de la musique occidentale. Le Couronnement de Poppée, Claudio Monteverdi, Les Arts Florissants, William Christie (Harmonia Mundi).
Playlist classique spécial Milan :
Liya Petrova
Comment le disque de l'une des grandes violonistes actuelles, de nationalité bulgare, dédié à un compositeur allemand – Beethoven – et un compositeur autrichien – Mozart –, peut-il trouver sa place dans ce magazine consacré à la Lombardie ? Tout simplement parce que Liya Petrova joue ces deux concertos avec un violon fabriqué à Crémone en 1735. Ce haut lieu de la lutherie doit une large part de son histoire au luthier Stradivari, dit Stradivarius, qui y est né en 1644 et s'y est illustré.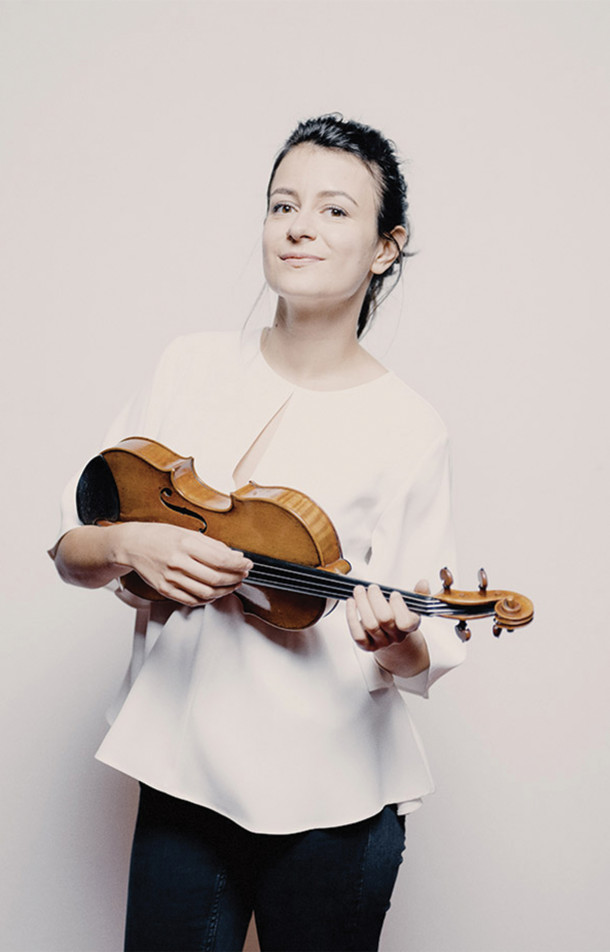 The Good Life : Pour enregistrer ce disque, vous avez choisi un violon qui vous a été prêté il y a un peu plus d'un an par des mécènes.
Liya Petrova : Il s'agit d'un violon fabriqué par Carlo Bergonzi, l'un des héritiers de Stradivarius. La famille de ce dernier l'avait choisi, après son décès, pour lui succéder. Le prêt de ce violon a été à l'origine d'un changement très important pour moi, même si je possédais déjà un excellent instrument. Comme tous ceux fabriqués par Carlo Bergonzi, il est d'une très grande élégance.
TGL : Pouvez-vous nous dire ce qui a changé dans votre jeu, avec ce violon ?
L. P. : Ce qui est très différent, c'est la manière dont le son se projette. Et par un étrange paradoxe, plus le lieu dans lequel je joue est vaste, plus le son porte. Avec un instrument de ce niveau, la distance ne fait pas perdre du son et on n'a jamais l'impression d'être seule sur scène. C'est un véritable partenaire, avec une grande personnalité. Il m'a fallu plusieurs mois pour l'apprivoiser. Quand on est amené à jouer avec un nouveau violon, c'est un peu comme faire connaissance, on doit s'habituer à cette nouvelle personne. Ce que j'aime avec ce Bergonzi, c'est qu'il présente une palette très large. Pour les concertos de Beethoven et de Mozart, je cherchais un son très lumineux. Mais si je joue Chostakovitch ou Bartok, je cherche un son plus rustique, plus sombre. Or, cet instrument est parfaitement équilibré entre les graves, les médiums et les aigus. Il permet de jouer tous les répertoires.
TGL : Vous interprétez un concerto rare et splendide de Mozart, le 7e, K.271/a, dont on ne sait si tout est de la main du compositeur, et l'ultracélèbre concerto de Beethoven…
L. P. : Je voulais confronter ces deux œuvres, écrites dans la même tonalité, et que j'aime particulièrement. Le concerto de Beethoven m'accompagne depuis longtemps. C'est une œuvre qu'on ne peut jamais posséder totalement. Il y a quelque chose de fragile dans ce concerto. Quand on joue le concerto pour violon de Brahms, chaque interprétation permet de mieux le maîtriser. Chez Beethoven, ce n'est pas le cas, on n'a jamais un sentiment de sécurité. C'est une musique d'une telle pureté et d'une telle clarté qu'on doit l'aborder avec énormément de modestie.
Concertos pour violon en ré majeur de Beethoven et Mozart, Liya Petrova, Sinfonia Varsovia, Jean-Jacques Kantorow (Mirare).
---