Rootstock, festival épicurien au cœur du vignoble bourguignon, revient au Château de Pommard les 13 et 14 juillet prochains. A l'affiche, entre autres, Fatoumata Diawara, J.B. Dunckel (ex-Air) ou Adam Naas. Mais aussi Ibeyi, les deux jumelles superstars franco-cubaines qui ont coché la Bourgogne sur l'agenda de leur tournée internationale. L'occasion était trop belle, et The Good Life n'a pas résisté à poser quelques questions à Lisa‐Kaindé Diaz, l'une des deux sœurs, et lui demander quelle était sa playlist « all time ».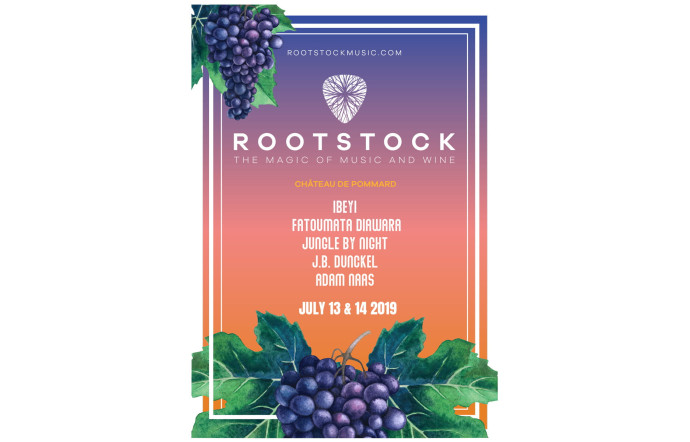 The Good Life : Vous serez à Rootstock cet été, et vous avez rempli l'Olympia à l'automne dernier… Quelles sont les différences entre les salles intimistes et les festivals ? On prend du plaisir différemment ?
Lisa‐Kaindé : Ce qu'on aime par-dessus tout c'est de jouer dans toutes sortes de salles, de festivals, devant des publics différents. Jouer pour 1000 personnes qui ont acheté leurs billets pour nous voir et qui connaissent nos chansons ou jouer pour 10 000 personnes dans un festival où une partie du public nous découvre ce sont des expériences qui n'ont rien à voir l'une avec l'autre même si chacune apporte énormément de plaisir. Le point commun c'est que monter sur scène est toujours un défi. Il faut emporter le public, il faut tout donner, il faut que ça vibre. Puis, il n'y a pas que la différence entre une salle et un festival. Chanter devant des Japonais, des Brésiliens, des Américains, ou des Français, ce n'est pas du tout la même expérience non plus. On a eu la chance de tourner dans le monde entier. On s'est frottées à des salles et des gens très différents. C'est vraiment excitant.
The Good Life : A quoi va ressembler votre année 2019 ? Un nouvel album en préparation ?
Lisa‐Kaindé : On continue de tourner jusqu'à la fin de l'année. Ça fera deux ans depuis la sortie de l'album ! On part en Chine, à Singapour, au Japon et à Taïwan dans quelques jours. Puis nous irons au Brésil et en tournée aux USA. Puis les festivals en Europe, Rock in Rio et un projet avec un orchestre philharmonique. L'aventure continue. En 2020, on s'arrête pour faire le 3eme album. En prenant notre temps.
La playlist Ibeyi x The Good Life :
Amy Winehouse, Take the box. « Amy est encore une de mes artistes préférées.  Je l'écoute toutes les semaines et sa musique continue à me transporter. Quelle voix, quelle écriture ! »
Angelique Kidjo, Born under punches. « Cette chanson des Talking Heads reprise par la reine Angelique Kidjo est ma reprise préférée de 2019 ! »
Anohni, I don't love you anymore. « J'aime sa voix. J'aime cette production. J'aime combien cette chanson est répétitive et déprimante. »
Beyoncé, Don't hurt yourself. « J'adore le mélange de Beyonce et de Jack White et cette douce agressivité. »
Cardi B, I like it like that. « J'aurais aimé avoir l'idée d'utiliser le sample I like it like that. Quelle bonne idée ! Et on a un faible ma sœur et moi pour Cardi B. »
Céline Dion, Pour que tu m'aimes encore . « J'aime Céline d'un amour indescriptible ! (rires) C'est étrange mais c'est comme ça. »
Orelsan, Notes pour trop tard. « Parce que c'était vraiment chouette de travailler avec Orel et qu'à chaque fois que j'entends cette chanson elle me transporte à notre premier Bercy avec lui. C'est notre rappeur français préféré. Il écrit très bien, il fait des clips démentiels, il joue incroyablement bien, il fait des concerts pleins de surprises et de bonnes vibrations et en plus c'est un mec bien. »
Charles Aznavour, Plus bleu que tes yeux. « Parce que cette chanson est d'une pure beauté. J'écoute peu de chanson française mais à la maison on écoutait Serge Gainsbourg, Charles Aznavour et Benjamin Biolay. »
Snoop Dogg, Drop it like it's hot. « Cette chanson est légendaire, le beat est restée dans l'histoire du hip hop… »
Whitney Huston, I didn't know my own strength. « Cette chanson est magnifique et orgasmique. »
Serge Gainsbourg, Ces petits riens. « Une de mes chansons préférées au monde. La version de Asa ou d'Angelique Kidjo sont merveilleuses aussi. L'Afrique aime Gainsbourg. »
Queen, Show must go on. « Chanson iconique. Une de mes préférées de Queen. La voix de Freddie Mercury est incroyable, sa puissance, son lyrisme… »
---
---
---